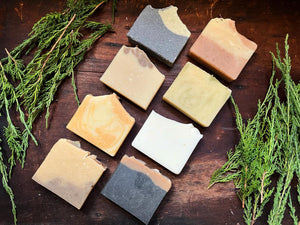 Artisanal Soaps
---
Sage & Thistle Handmade Goods offers a selection of handcrafted soaps, ranging from vegan to organic goat milk to premium tallow-based varieties, each uniquely crafted to provide a skin-nurturing, non-drying cleanse. Every soap is thoughtfully created using quality ingredients including organic and/or fair trade plant butters & oils, hand-rendered tallows & lard from ethical Ontario farms, organic & pesticide-free botanicals, pure essential oils, and natural clays & mineral-rich salts.
All of our soaps are made in small batches using the cold process method and spend a minimum of 5 weeks curing to ensure they last well and are at their prime when they get to your hands.
Please read all ingredients carefully to avoid any potential allergens or sensitivities!